Government Contracting First-Steps Workshop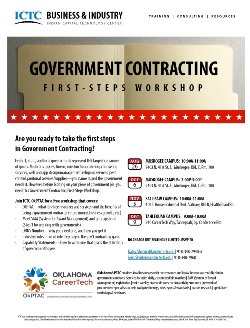 What

Government Contracting First-Steps Workshop

When

11/5/2021, 10:00 AM

–

11:00 AM

Where

ICTC-Sallisaw
Federal, state, and local governments represent THE largest consumer
of goods. Medical supplies, linens, construction, catering, counseling
services, web and app design/management, religious services, pest control, janitorial services/supplies—you name it, and the government
needs it. However, before bidding on your piece of government pie, you need this Government Contracting First-Steps Workshop.

To register contact Katey Sherrick-Blair at katey.sherrickblair@ictech.edu or 918-348-7940 or Dr. Jerri Stoutermire at jerri.stoutermire@ictech.edu or 918-348-7968.
Copy to Google Calendar
•
Download iCal Event